Milestones are vital in every person's life. They signify turning points in our experiences where we accomplish new things that support our development and growth in a positive manner. Whether it's learning to ride a bike for the first time, landing a promotion at work, or starting a family, these achievements inspire us to do more and be more by introducing us to a whole new chapter in our lives.
One of the earliest milestones that your child will be experiencing is their first day of school. It's a big transition for sure. One day, they can barely walk 5 steps towards you, and now they're walking into a whole new phase in their life. It's a proud and joyful moment for any parent. You're excited to see your kid accomplish great things in school and finally be in an environment where they can hone their talents and knowledge towards success.
But it may not feel as exciting to a lot of kids. In fact, the first day going to school can get very overwhelming for some children. It's a whole new experience compared to their everyday life at home, so it will definitely take some time for them to get used to it.
 You can help your child enjoy their first day of school by celebrating it with them. It's a milestone, after all, and every milestone deserves a celebration. Here are a few ways you can celebrate with your kid after their first day of school.
Get a Tasty Snack
You can never go wrong with getting your child their favorite snack to celebrate the first day of school. Tasty sweets like ice cream, cakes, and cookies will surely get a big smile from your kid. And you don't have to worry about these snacks ruining their teeth too much. It's a celebration after all, and having a few sweets to enjoy the small victories in life never hurt anyone.
Cooking a Special Dinner
  If you're going to celebrate, better go all out! It's time to party by preparing a feast for your kid and some guests. You can invite friends and relatives over to show just how proud all of you are of your child's great achievement. Why the big dinner? Your child's not a baby anymore and big kids gotta eat big! If you'd rather opt for a small celebration, cooking your child's favorite meal and eating together with the family is a great way to celebrate, too.
Going Somewhere Fun
It's not every day that you take your kid to the arcade, beach, or carnival, but when you do, you know they're going to have the best time. A special celebration calls for fun activities, and what's more fun than shooting hoops at the arcade, swimming at the beach, or going on thrilling rides at the carnival. Just be sure to let your kid know you'll have to go home in time for bed. It's a school night after all.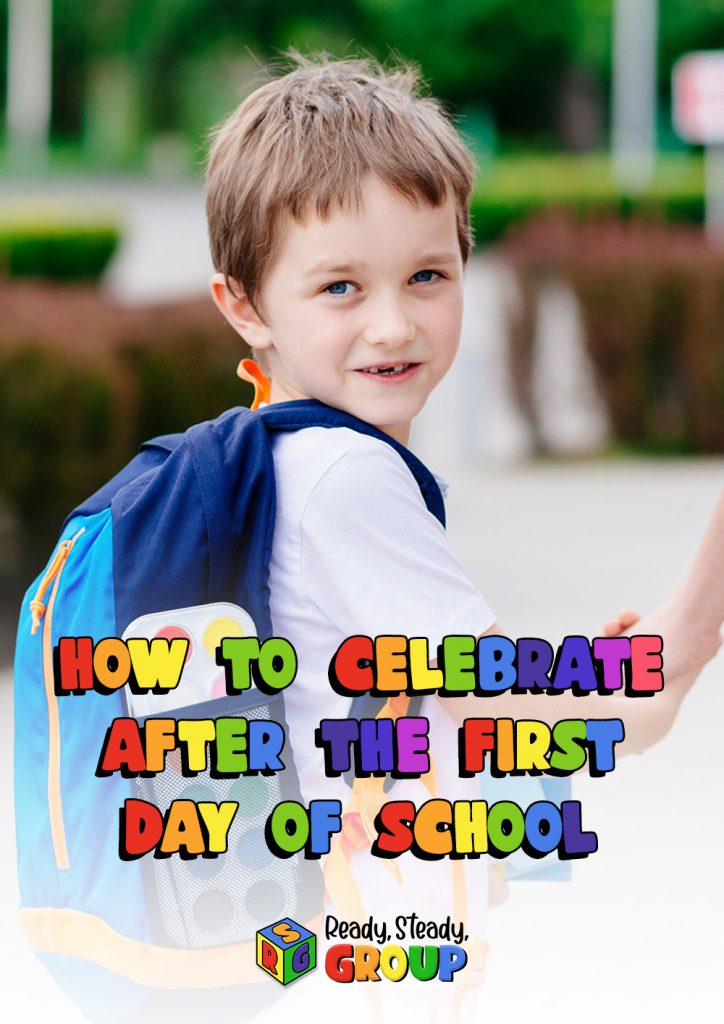 Watching a Movie Together
  Having an intimate time watching a movie together at home is just as good as any large-scale celebration. Let your kid choose the movie they want to watch and ready the popcorn for a movie marathon. Whether it's their favorite show that you've watched for the 100th time or an action-packed film that you never let them watch without you, sit with them and let them know they did a good job today.
Buying Them a New Toy
Has your kid been eyeing that shiny toy robot or new game console for so long? You can celebrate their first day in school by finally buying it for them! Think of it as a reward for achieving that milestone in their life. The item is on sale? What are you waiting for! You're probably going to get it for their birthday anyway, why not get it now while it's still on sale?
These are some ideas you can do with your kid to celebrate their first day in school. Doing some of these will make them really happy, but the important thing is to will let them know how proud you are, and to show them that you'll be there to celebrate the milestones in their life no matter what.